📌 TL Notice
Note that chapter 1-4.1 are unlocked, the rest is password-protected.



🔒 Support the author ! ! Chapters which are locked in the raws are now only available with proof of purchase - please see below to see how you can get access.

Step by step guide to support the author here.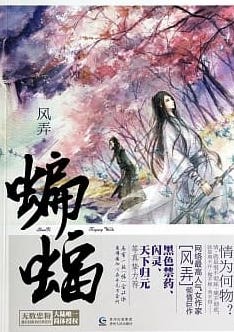 Bat
Chinese Title: 蝙蝠 (biānfú)
Author: 风弄 (fēng nòng)
Raws: Read on myrics ▷
Publishing Year: 2005
Length: 29 chapters [print] | 57 chapters [web]
TL status: Complete 🙌

Live action title: Story of the Bat, 夜燕白 (yèyānbái)
CONTENT WARNINGS
Rating: 18+ at the very least.

multiple accounts of inc*st (not main cp), violence, lots of torture, noncon, sex, murder, death, abuse etc. List non-exhaustive but overall the novel is pretty dark and the main CP's relationship is very toxic, true enemies to lovers type. Please proceed with your own discretion and think carefully if these topics are something you can handle or should be reading.

. • ° Each published book chapter is the size of two average web novel chapters so that's why there are a lot of split chapters in my translation, but I've highlighted the equivalent chapters in the web version.

LINKS FOR ACCESS
NOTE: Bat is hosted on myrics, NOT jjwxc!!
• Step-by-step guide to buying on myrics
• Send your proof of purchase for Bat
In case you're wondering why it's called 'Bat', it's because the killer leaves a dried bat on his victims like his signature, not because one of them is a bat lol.
Synopsis: 

Bai lao-taiye's birthday banquet, the always mysterious1龙见首不见尾 – lit. the dragon sees the head but not the tail – basically used to describe someone as mysterious, elusive but also in terms of their whereabouts i.e. hard to pin down, Feng Long, the alliance leader of Wulin came to personally to offer his birthday wishes, making the old man brimming with smiles.

When the distinguished guest graced everyone with his presence, the joyous atmosphere grew even stronger. Whilst the eyes of the crowd as well as their admiration and envy focused on the pride of Wulin, Feng Long's eyes, but fell upon the most inconspicuous corner of the birthday banquet.

"I, Feng Long, am untalented, to think that there is such a handsome2龙凤之姿 = alright it's a bit more than handsome lit. beauty of dragon and phoenix – this phrase used to be used to describe the Emperor new talent in Wulin. May I ask this honourable friend for your name?"

The people from the Bai family secretly frowned. The guests in the hall were also distinguished and outstanding talents, how is it that the stain of the Bai Family, the most unloved by his father, the third young master of the Bai Family, who was not even allowed to learn the Bai family's style of martial arts, had attracted the attention of the Alliance Leader, Feng Long?

This is the world-famous Bilu sword?

After one meeting, Bai Shaoqing immediately came to a conclusion: this person was powerful, he should not stay any longer at the Bai Family Manor. Out of the thirty-six stratagems, fleeing was the best answer3三十六计,走为上策。= Things are looking hopeless, so it's better to leave.

Tags: wulin, bdsm, oppressive love, forced love
Traditional Copies
Publishing date: 2005
Tome 1
|
Tome 2
|
Tome 3
Publishing date: 2012
Tome 1
|
Tome 2
Simplified Copy
– Note the simplified copy has only 18 chapters so I think it's been chopped up to bits.
If you are looking for a digital copy, you can get from
Myrics.
However, I'm using the physical copy with three tomes so chapters can vary from version to version ~