Do you want to pinch my bum?
🚫 DO NOT MAKE EPUBS OR REPOST MY TRANSLATION ANYWHERE INCLUDING WATTPAD FOR 'OFFLINE READING'
The Emperor and Consort Dowager went back and forth between themselves, talking a lot of which nothing went in for me. I only remember when the Emperor grabbed me by the collar to leave, the ferocious look the Emperor Dowager gave me.
She doesn't think that I was lying to her before right…….
This misunderstanding was too great….
The Emperor dragged me along by the collar all the way back to Yangxin Palace.
"Liu Xiaoyu, don't you know how to resist?" He threw me on the floor completely enraged.
I propped myself up lightly, the palm of my head was in burning pain as if the skin had been broken.
But I still remembered to endure the pain and kneeled on the floor to apologise, even though I didn't think I was in the wrong at all.
"Your Majesty, please forgive. This servant, this servant would never dare."
The Emperor's face was just as gloomy as before, as if he was actually angry, he beckoned me with his finger, "Come here."
I went over then and then he pointed to the stool, "Sit."
The Emperor actually let me sit on the stool, and it was to sit with him on the same level, this… this… this…. He was bestowing overwhelming favour upon me.
I coyly did not dare to sit down. The Emperor frowned, "Do you need me to help you?" As he spoke, both his hands raised up, and made a gesture that he was going to pinch my bum.
I immediately sat down obediently.
The Emperor looked at me and said in a rather serious tone, "Liu Xiaoyu, listen to me carefully, you are my person1朕的人 – this means a multitude of things, it can be like "you are mine", but it also just means "you work under/for me", you need to put me first. If anyone wants to take you away in the future, you must first report it to me, got it?"
At this moment, my heart was beating wildly, only because the Emperor I was his person.
In order him to not discover that anything was out of place, I only silently lowered my head, not uttering a word.
Who knew that the Emperor would actually reach out and raise my chin with his hand, his face turned more gentle, "Liu Xiaoyu, on the day of the coup, did you truly not see me?"
At this time the Emperor was being too gentle, I wondered whether I should tell him, even if I had to die, I should let him know that he had melded flesh with, was in fact me.
At this moment, I was filled with courage.
But just as I was about to open my mouth, the voice of Yuan Moshu was heard from outside the door, "Your Majesty, He da-ren is here."
The Emperor let go of my chin and quickly moved away, I saw a glimmer of delight in his eyes flash past, "You can go back now."
He did not even turn his head back to me as he walked to the door, whilst I could only follow swiftly behind.
When the doors opened, the elegant and handsome He Zhongyan was standing there like an emerald leaved willow – tall and standing upright but also with some softness.
I thought to myself, the Emperor is right to like him, when the two of them stood together, they looked well-matched.
Especially when the Emperor's hand was unconsciously wrapped around He da-ren's slender waist, in my view, it was equally forceful as it was pleasing to the eye.
I felt something that wanted to bore itself out of my head, this was a feeling I had never felt before.
After I greeted He da-ren, I slowly headed out. I thought that I could hear what they were discussing intimately, but in reality, I found that as soon as I went out, the Emperor immediately closed the doors.
I had just left the courtyard when Xiruo came over to me.
"Liu Xiaoyu!" Xiruo mysteriously dragged to a corner corridor and pulled out two mantou wrapped in a handkerchief and gave it to me, "Quick, eat this. I secretly saved this for you. You mustn't eat tonight's dinner!"
"Why?" I didn't understand.
Xiruo looked at me awkwardly, "Whatever you do, don't eat it. First, eat these mantou, I will think of something for tonight."
In reality, I could kind of guess the situation. It was probably that I had unconsciously attracted trouble, perhaps, because the Emperor had asked me to serve him personally, however, shouldn't everyone be trying to curry favour with me? Why was this happening? Unless they considered me an easy target? Or perhaps it was because I needed to be more fierce?
But in the end all I said was a word of thanks.
Xiruo put away the handkerchief, "You don't need to thank me. You are Xiao Chun's friend, so you are also my friend. However, I am only a palace maid of the second rank, if you can make it through this period, then everything will be alright."
After Xiruo was done talking, she immediately rushed off.
I was standing in the same spot holding two mantou which were still warm. I felt rather sad, it only cemented my wish to return to the Palace Laundry Service. At least there I could eat my fill and stay warm.
But as soon as I thought about what the Emperor and He da-ren might be doing in the room, my heart felt particularly distraught, that I didn't even want to eat the mantou in my hand.
This rice was no longer fragrant…
I did not leave, I actually guarded the courtyard. I told myself that if the Emperor did not find me in a bit then he would punish me.
About half a shichen later, He da-ren came out somewhat angry, the Emperor followed behind him, pulling at him coaxingly, "Ah-Yan, I didn't mean it like that…."
"Your Majesty, this official has already said, I hope that you will put the nation first."
"Ah-Yan….. Just do as you have said…." The Emperor's face was a little pathetic.
"Okay." He da-ren's face softened a little, he softly touched the Emperor's head, "Then this official will go ahead and handle this."
He da-ren walked off just like that without turning around, I saw that the Emperor's eyes were filled with reluctance and sorrow.
I thought to myself, he must really like He da-ren….
The Emperor swept a glance over me but the gaze did not linger. I thought that he would ask me to go inside and knead my butt, and then he would cheer up a bit but he did not, he only went back inside alone and desolate.
I was actually a little disappointed that the Emperor didn't bully me, how ridiculous.
At dinner time, the Emperor no longer asked me to serve him but instead ate by myself. Luckily he had the door open today so I secretly watched him from the corner of the courtyard.
He seemed to only eat a few bites. Could it be that he wasn't hungry because he was in a bad mood? Did he need to pinch my bum? But I didn't have the courage to go up and comfort him directly.
After dinner, the Emperor went to Qianqing Palace by himself and said that he was going to read through the memorials.
I was lost in thought as I returned to my room. I remember that Xiruo had warned me not to go and have dinner so I'll bear it for now. If it was truly that bad then I would return to the Palace Laundry Service tomorrow, if that didn't work either, I would take out the rewards I was bestowed and use them to make some arrangements.
As I thought about this, I was readying myself to get out the bag of silver from the cupboard when the doors opened.
Zhou Xin came in, he looked at me suspiciously, "Liu Xiaoyu, aren't you going to have dinner?"
I immediately became anxious, "I'm… I'm not hungry."
Zhou Xin flattened his mouth, "You've probably eaten your fill with the Emperor! If you had some good food, you should have brought it back with you to share."
I quickly waved my head, "No… No…. "
Zhou Xin didn't bother with me anymore, in a little while, Xiruo came knocking at the door. I sneakily ran out to meet her in a more secretive place.
"Quick, I brought you a bun." Xiruo quickly took out two hot steamed buns, "that's all there is, just bear it, it will be better in a few days."
"En!" I was so moved, I smiled stupidly as I took large bites.
I thought to myself, oh good, at least, there are still some good people, I can still eat some hot buns.
However, when I thought about the Emperor looking so desolate at dinner time, the meatbun in my hand turned tasteless….
I didn't know what was up with me, could I be coming down with something?
In the night, I did not dare to sleep, as I was afraid that the Emperor might look for me.
In reality, I was correct, around Zishi, Yuan Moshu came to look for me.
I did my best to get dressed quietly before going out, luckily Zhou Xin seemed to just flip sides but did not wake up.
"Xiaoyu, hurry and go, the Emperor is looking for you." Yuan Moshu's face was filled with worry.
Unless something has happened to the Emperor?
I quickly rushed over, the Emperor was currently kicking up a fuss in his sleeping quarters. It was possible to hear the commotion of the teacups and porcelain smashing making one jump out their skin.
The little eunuchs and palace maids were all cowering outside the door. Truthfully, I was also a little afraid but I still wanted to go and try to comfort the Emperor.
When the clamour inside the room gradually died down, I finally lightly pushed open the doors.
The Emperor had already gone inside, I quietly walked in and saw he was lying on the bed.
"Your Majesty?" I asked very quietly, "This servant has arrived."
The Emperor moved slightly, then he reached out with one of his hands.
I know he was calling me to go and help him up.
He pressed onto my hand as he sat up, "Liu Xiaoyu?"
"Responding to Your Majesty, it is this servant."
The Emperor's eyes contained no lustre, his back was hunched, he pulled my hand and muttered, "I don't want to be the Emperor, I don't want to select a consort….."
I don't know what had happened to the Emperor, nor was I sure what exactly he was thinking about inside, the only thing that I could do, was to do my utmost to cheer him up, because I wanted to.
So, I reached out and pulled up my robes, I pointed my bum towards the Emperor, and then said courageously, "Do you want to pinch my bum?"
I heard the Emperor laugh, "Liu Xiaoyu, you're truly…."
In the end, the Emperor did not pinch my bum, he only lightly smacked it twice and then ordered me to help him take off his outer robes to rest.
The Emperor said, "Liu Xiaoyu, why don't you sleep on the longue chaise in the outer room, accompany me."
Author note
== Mini theatre ==
Emperor: I don't want to be Emperor, nor do I want to select a consort. I only want to leave with Ah-Yan and get away from the imperial court drama but he is unwilling to. When I was upset, I thought of Liu Xiaoyu. He always had an alarmed expression on his face, he lets me bully him however I want, he will never resist, the idiot. He actually took the initiative to let me pinch his bum. Does he really think that I'm that perverted that I love pinching people's bums? I just want to confirm that the person that night was indeed him, if it was then I could accept that. If it wasn't then what should I do….
He Zhongyan: The Emperor has not grown up at all, he doesn't care about the matters of the state at all, he's giving me a migraine!
Support the Author
Author Page
||
Novel Raws
||
Changpei guide
Scan to go to novel page
↓↓↓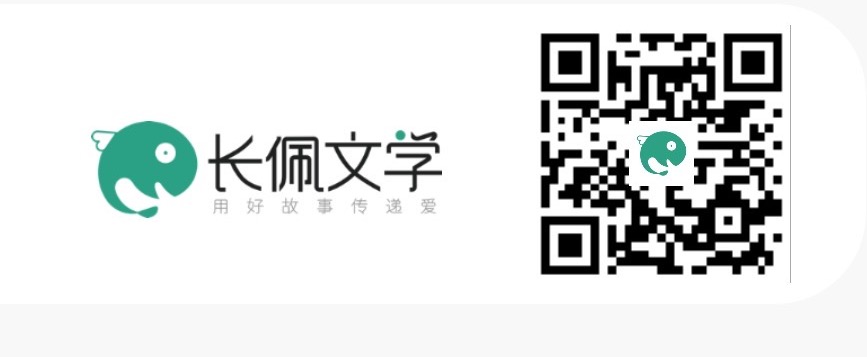 The entire novel literally costs $1 US or less if you pay with alipay!
Please support the author if you can ♡